NEWS
Every Lifeweaver Skin In Overwatch 2, Ranked
Some great and some bad Overwatch 2 outfits for the lovely support.
Lifeweaver is a new support hero in Overwatch 2. He is a unique character who focuses on healing and utility while using his Life Grip ability to pull teammates out of fight when they are in trouble. Like any other new hero, he comes with a bunch of new skins to unlock.
As of Season 4 of Overwatch 2, Lifeweaver has ten skins. His normal skin, four Rare skins, two Epic skins, and three Legendary skins are all available. Some of them are really great, but others leave a lot to be desired. This list of all the Lifeweaver skins in Overwatch 2 will help you decide which ones to choose first.
Magnolia: A Muted Mess
For a hero whose whole character is based on nature, Lifeweaver's Magnolia skin doesn't do a good job of showing how bright and colorful Mother Earth is. When compared to other skins, even his base one, the change to muted main and accent colors feels pretty boring.
Because of this, this is likely to be one of Lifeweaver's less famous outfits, since many of his other outfits have more to offer. So, this boring Rare skin can be bought for 300 Coins or Credits.
Hydrangea: A Green Gaffe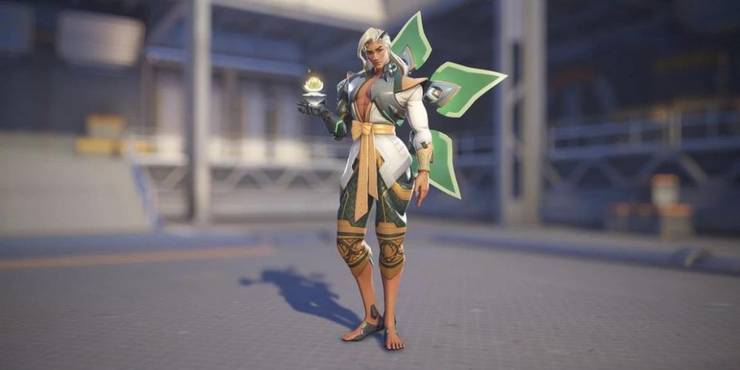 Hydrangea is another Lifeweaver skin that is just a little bit better than Magnolia in terms of design. It adds very few new design elements to the table. The only real differences are a few color changes to his pants, belt, and gauntlets, as well as the bionic flowers on his back.
Even though changing the back leaves to green is a nice change that cleverly reflects the hero's theme of being connected to nature, the flower itself is not very exciting or visually appealing. There are much better ways to spend your 300 Coins/Credits than on this Rare skin.
Lifeweaver: Beautifully Basic
There's a lot of pressure on the basic look of an Overwatch hero, and Blizzard really hit it out of the park with Lifeweaver's design. This has a nice contrast of colors and textures. Especially the soft pink petals on his back and the shiny gold belt that keeps his jacket closed.
There is also a small pattern near the tips of each petal. Which is present in a few other versions as well. Overall, this isn't the worst skin to have to wear until you get enough money to unlock something better looking.
Amsonia: The Real Teal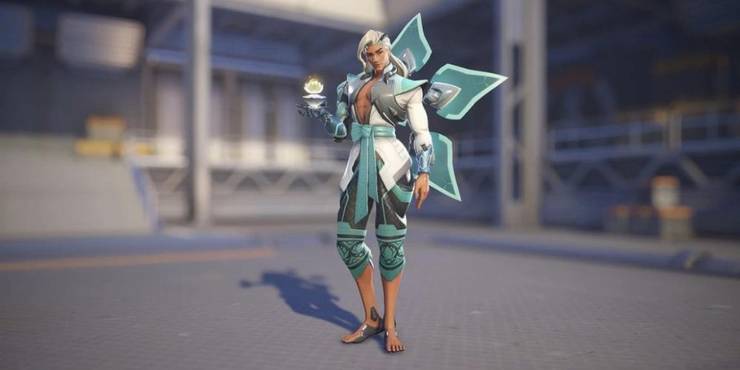 Next, Amsonia is a great Lifeweaver skin because it looks and feels just like the flower it was named after. This is done by giving the character's petals, belt, gauntlets. And pants a light greenish-blue color to make them look more lively and real.
The base design's faint pattern along the tips of the petals' blades is also back. So, it seems like Amsonia is one of the few Rare skins in Overwatch 2 that is worth spending Coins or Credits to earn.
Orchid: Perfectly Pink
Orchid is another Rare skin that looks a lot like the plant that gives it its name. Lifeweaver's design is similar to Amsonia's in that similar shades of pinkish colors are used for each part of the outfit to make it look like a whole.
At the same time, it has a few new design features that set it apart from the hero's other clothes. This is shown by the different design on his back petals. Which is closer to the middle of each blade than at the tips.
Cassia: Cool, Calm, And Collected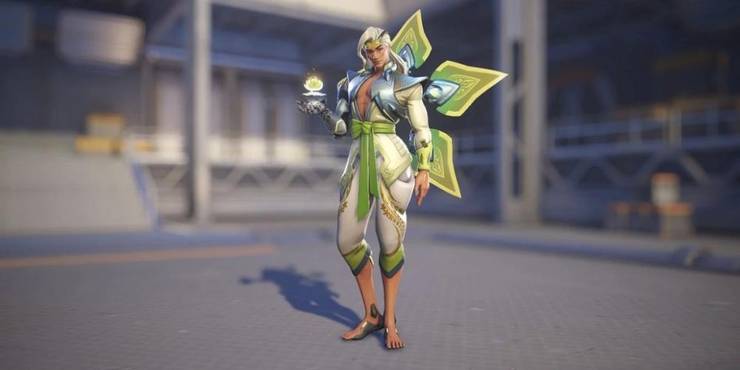 At first view, the Epic skin Cassia looks a lot like the skin Hydrangea. Since they both have a lot of green in them. But if you look more closely, you'll see a lot of small but important details. Like the gold leaf pattern on Lifeweaver's now-white pants.
Also, the back petals now have a new, more intricate blade design. Which is complemented by a slight gradient effect that runs from the base of each petal to its tip. Of course, this all costs 1,000 Coins or Credits, just like any Epic skin in Overwatch 2.
Sovereign: Righteously Regal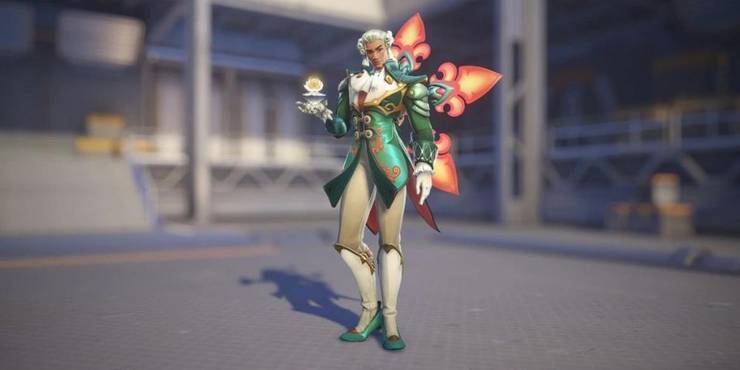 There's something so cool about a Legendary skin that isn't afraid to use bold new design choices to make a character look very different. Sovereign, a different version of Lifeweaver in Doodle Baseball that looks like a French aristocrat, is a good example of this.
This skin's main features are a white wig that people in high society often wear, a stylish green jacket with red details, and bright red and yellow back flowers that look like the famous French fleur-de-lis. At 1,900 Overwatch Coins, it's a lot to ask for, but it's worth every penny.
Lotus: The Devil's In The Details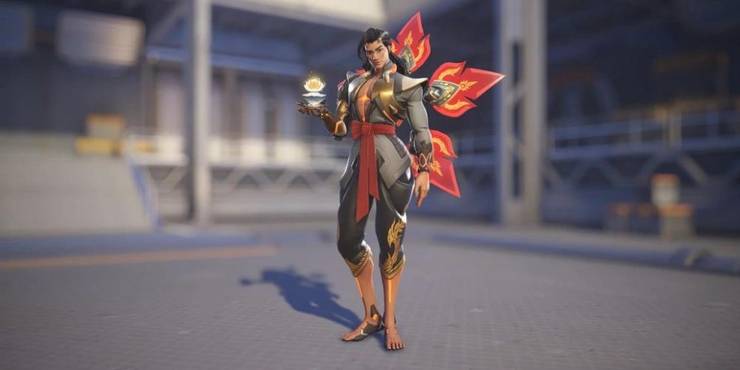 Even though Lotus is an Epic skin, it is quite unique compared to many of the other alternatives that have been discussed. Lifeweaver's jacket looks great because it has bright colors like red, yellow, black, and gray. This is a big part of its draw.
The hero's back flowers, which now have slits along each blade and a yellow pattern that looks very royal on top, are another detail that will catch your eye. This Epic skin costs 1,000 Coins/Credits and should be in the collection of any Lifeweaver main. It's also likely to sneak its way into your normal rotation.
Regent: Bewitched By Blue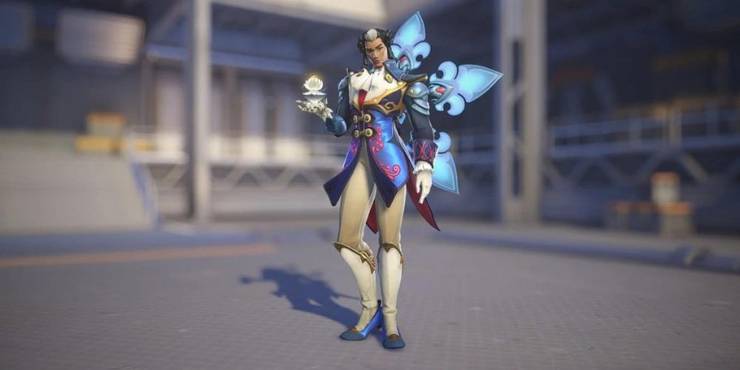 Regent is another Legendary skin for Lifeweaver that takes the character in a completely new way. It has a lot of the same design ideas as Sovereign. His blue-tinged jacket and tan pants give off an air of upper-class wealth and elitism that carries over to the rest of the design.
If you look closely, you can see red jewels set into the bottom of each petal on his back. The tips of the lead blades also have a faint pattern that looks like the French fleur-de-lis symbol. Lifeweaver's face is finished off with a black head of hair with a gray stripe down the middle.
Phi Ta Khon: Masked Mastery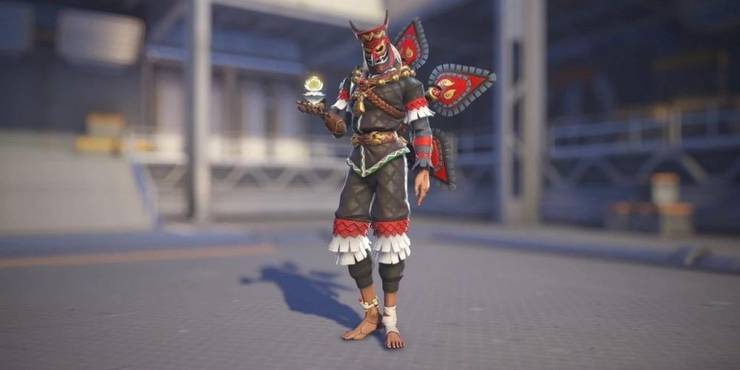 Phi Ta Khon is a Legendary skin for Overwatch 2 that you can get when you hit Tier 30 of the paid Battle Pass. It is based on the Thai festival of the same name. As part of this traditional Buddhist holiday, people wear masks made of palm leaf stems with carved wooden noses and things that look like ears.
When you look at the skin in-game, you can see how carefully it was made. Lifeweaver's pants, jacket, belt, and flowers all have different fabrics and textures. Also, adding a mask to this Legendary skin makes it stand out and shows something important about the hero's culture and identity.