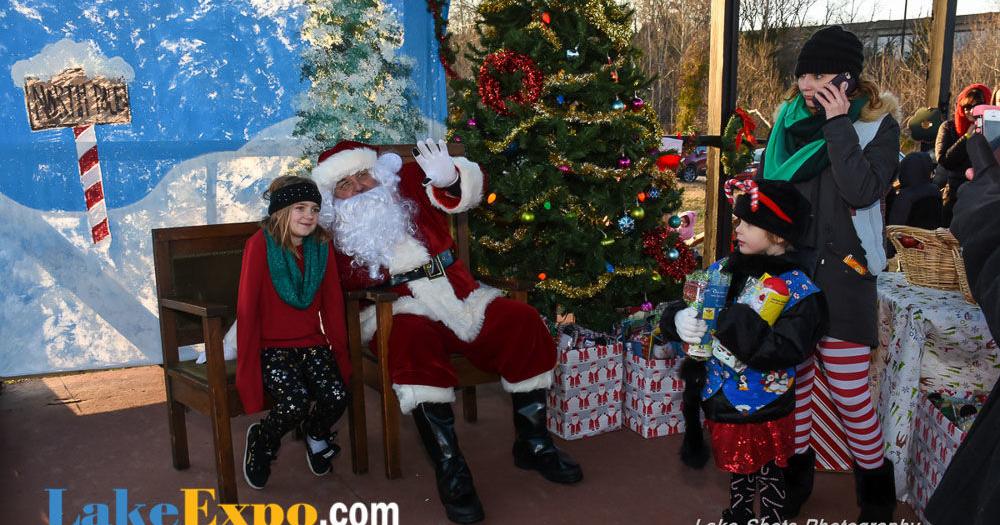 ISLAND,BEACH AND LAKE
Christmas At The Lake! Here's Our List Of Festive December Events | Lake of the Ozarks News
With summer wrapping up and winter well on its way, Christmas is just around the corner and the Lake of the Ozarks is READY with plenty of events, parades, Christmas lightings and charity events for everyone! 
#1 – 37th Annual Lake of the Ozarks Christmas Parade
Saturday, Dec. 11, 2021, 1 p.m.
Bagnell Dam Strip
This year's theme for the Annual Lake of the Ozarks Christmas Parade is "90th Bagnell Dam Christmas".
Santa Claus arrives in Lake of the Ozark's style. The parade finale. Pulled by his reindeer Santa's ride is a beautiful Red Sleigh with over 2,000 lights, garland, music and Santa helpers. The sleigh was designed and built by Steve Lemens and his late wife Pat, who embarked on this labor of love for the joy of children at Christmas time. Many contributed to the original project. 
The Parade will line up at 242 intersection starting at the HH & Bagnell Dam Blvd. intersection, and will turn right to proceed down Bagnell Dam Boulevard to the Dam.
Bring the whole family and join us immediately after the Parade at Luby's Plaza where Santa will greet all the kids on Luby's Stage with gifts for each. Enjoy the Sweets Table and Holiday Cheer!!
#2 – Kiwanis Christmas For Kids Charity Event
Dec. 11, 5:30pm – midnight, cocktails @ 5:30, Dinner @ 6
Lodge of the Four Seasons, Lake Ozark — Campana Hall
Cost: $100 per ticket or $800 table for 10 (higher sponsorships available as well) 
The 32nd Annual Kiwanis Christmas For Kids Charity Event will help provide Christmas gifts for over 1,000 children in the lake area & monetary funding for several local organizations to help further assist children with various needs.
#3 – Christmas Village at Old Kinderhook
Every Friday–Sunday, from Thanksgiving to December 20th
678 Old Kinderhook Dr, Camdenton, Mo. 65020
For non-hotel guests, $5 per child 
So many ways to have holiday fun! This event is open to the public. Food, beverage, ice skating, and skate rental fees apply. 
Christmas Village Events:
Friday night Character Nights on the Ice

MU Synchro Skaters Performances

Christmas on the Square

Gingerbread house decorating for kids

Santa, Mrs. Claus, & elves available for pictures

Santa's Workshop

Cookie Decorating

Local Performers on The Ice

Elf Storytelling

S'Mores around the fire pit

Hot Chocolate

DIY Ornaments

Christmas Crafts

Holiday ABC's

Winter Bingo

Holiday Hayrides

Movies in the Hook

Letters to Santa

Fun Games for the family

Ice Skating

Great food & great company

Sunday Breakfast with Santa
#4 – Celebration Cruises Christmas on the Lake
Kickoff event Friday, Nov. 26, then every Wednesday, Friday, and Saturday of December.
Cost: $35/person
A very "Lake of the Ozarks" way to celebrate the holidays! This two-hour, six-mile cruise offers beautiful views of decorated docks and lake houses, aboard a brightly adorned cruise yacht. Appetizers, entertainment, and a cash bar. Proceeds support 11 different Lake area charities.
Book online www.cruiselakeoftheozarks.com or call 573-480-3212 
#5 – Old Tyme Christmas in Linn Creek
Saturday, Dec. 18, 11 a.m. – 2 p.m.
Camden County Museum – 206 S. Locust St., Linn Creek, Mo.
A celebration of the Christmas season in Linn Creek throughout the Camden County Museum. Come to the Museum for a full day of fun for the family. Lunch with Santa and crafts and games 11a.m. – 2p.m., 2 p.m. Young Museum Players present "CSI" Christmas Scene Investigators Play-$5 per family
#6 – Christmas Coloring Contest for children ages 5-10yrs old– Winner rides with Santa! 
Friday, Nov. 19 – Wednesday, Nov. 24 
Children between the ages of 5-10 years old are encouraged to take part in this Christmas Coloring Contest! Coloring Contest page can be found in the Lake Sun now until the November 19th weekend paper edition or you can call the Camdenton Chamber at 573-346-2227 by November 19th to have a copy emailed. Completed entries are due by November 24th and must be mailed to 4427 Osage Beach Parkway, Suite A-300, Osage Beach, MO 65065. First place winner will get to ride with Santa to the Christmas on the Square celebration on December 4th.
#7 – Camdenton Christmas Shop Hop
Saturday, Nov. 27 –  thru Friday, Dec. 17 
Holiday Shoppers are encouraged to visit the town of Camdenton this holiday season and take part in the annual "Christmas Shop Hop". Pick up a free shop hop ticket from any of the participating businesses and the more stops you make the better your chances are at winning various prize gift certificates.  List of all participating businesses will be listed on CamdentonChamber.com by Wednesday, November 23rd. 
#8 – Camdenton Christmas Tree Lighting Ceremony 
Friday, Dec. 3 –  5:30 p.m. – 7:00 p.m. 
Join us at the Camden County Courthouse lawn for a fun Tree Lighting Ceremony with friends and special guests. This free event will offer a live reindeer display, photo booth with Mrs. Claus, Hot Chocolate, Mulled Cider, and a bell choir performance. *Official Tree Lighting ceremony to take place at 6pm.
#9 – Camdenton Christmas on the Square 
1 Ct Cir NW, Camdenton, MO 65020
Saturday, Dec. 4 -10:30 a.m. – 1:00 p.m. 
Load up the family and head to the Camden County Courthouse lawn for hours of FREE entertainment, games, giveaways, food, petting zoo, and to top it off, an opportunity to visit with Santa Claus! 
#10 – Can Do Challenge to support LAMB House Food Pantry 
Saturday, Dec. 4. 
1 Ct Cir NW, Camdenton, MO 65020
Help "crush" hunger of local families by collecting for the annual Can Do Challenge. For every 10 non-perishable food items donated at the Christmas on the Square event,, you'll be entered into a prize drawing. 
#11 – Gingerbread House Competition 
Businesses and individuals may enter by Dec. 1, 2021, judging takes place on Saturday, Dec. 4
$25
Spark that competitive holiday spirit and join in on the 2021 Gingerbread House Competition. Houses will be on display and judging will take place at the Christmas on the Square event on Saturday, December 4th . The cost to participate is $25 and includes a pre-baked gingerbread house. Cash prizes awarded to the top four entries. Stop in by the deadline of December 1st to the Camdenton Area Chamber of Commerce office located at 739 W. US Hwy 54 to enter the competition and pick up your gingerbread house.
#12 – 2021 Holiday Bazaar Benefiting School of the Osage
Saturday, Dec. 4, 2021, 9 a.m. – 3 p.m.
School of the Osage Middle School, 635 MO-42, Osage Beach, MO 65065
The community is invited to the School of the Osage Middle School for the 41st Annual Holiday Bazaar from 9 a.m. to 3 p.m. Saturday, Dec. 4, 2021. Crafts, home décor, jewelry and other unique items will be available to purchase from area vendors.
This event is organized by the Osage Family Partnership High School Tribe to raise funds for scholarships, student and teacher resources. Each year more than 100 booths are filled by vendors coming to showcase their exceptional crafts and other goods at this popular sale.
In addition, Santa will be on site for pictures and high school clubs will host a bake sale. Concessions will be available for purchase.
#13 – Santa's Toy Wonderland At Florida Direct Palm Trees
November 1 – December 30, 2021
Florida Direct Palm Trees, 5923 Osage Beach Pkwy., Osage Beach, MO 65065
Santa's Toy Wonderland is coming to Lake of the Ozarks November 1-December 30 and Bringing Great Holiday Deals!
The Lake's Largest Children's Toy Shop and Hot Christmas Deals are inside Florida Direct Palm Trees! 573 693-9408
Santa's elves have been hard at work and there will be plenty of toys in stock.
Santa likes spending a little time in the sun too, the surf shack gift shop will be open.
Here's just a few of the Hot Deals: FREE Panama Jack Chair with $100 Panama Jack Purchase! 25% off all Pool Floats and inflatables. FREE Shining Sol Candle with $100 purchase from Surf Shack Gift shop and Buy 1 Get 1 25 % off all Jewelry. 25% off ALL Children's Toys Thanksgiving Weekend Friday-Sunday!
#14 – Benton Blue Community Christmas End Of The Year Bash 
Saturday, Dec. 4, 2021, 8 a.m.
Warsaw Community Building, 181 W. Harrison St., Warsaw, MO 65355
Benton Blue is an organization that is made up of volunteers that raise money throughout the year to make sure our local Law Enforcement Officers, Jailers and Dispatchers get a bonus Check for Christmas! 
 We have a year round auction page set up on Facebook where we post donated items. People can find that page at Benton Blue Auctions on Facebook! 
 This year we've done several events and have a few more still planned to make our goal! On Oct 26th we will have a Bingo/karaoke night at Hidden Lake Bar and Grill. On Nov. 23rd and 24th we will have a bake sale at Bullseye in Lincoln! To donate baked goods please give one of the Presidents a call! We will also do pre-orders of Pumpkin Pie, Pumpkin Bread, Rolls and Apple Pie that can be picked up during the Bake Sale! To pre-order call one of the Presidents!!  
Our big year end event will be held at the Warsaw Community Building on Dec 4th! We will have Breakfast with the Grinch!! Supper with Santa!! Raffles, Silent Auction, Live Auction and more!!! Tickets on Sale now for Breakfast with the Grinch!!