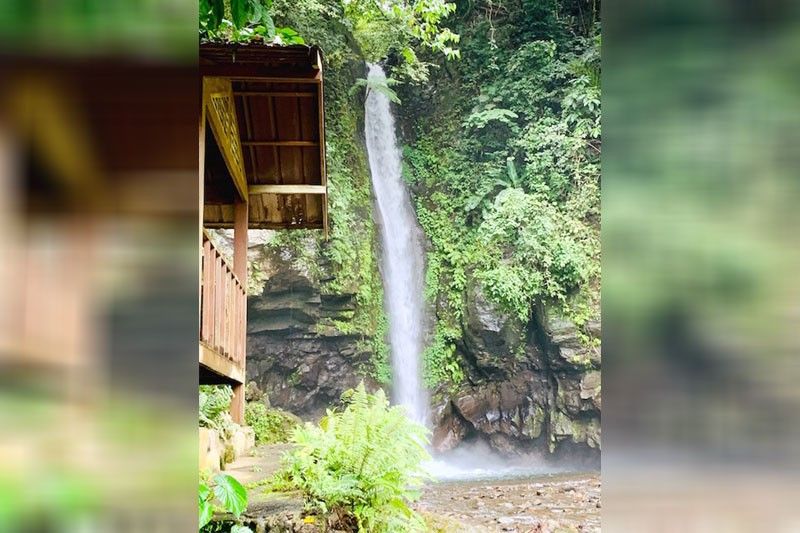 Camiguin is one of those unspoiled paradises that are so perfect you would like to keep it secret, and yet it's the kind of secret that is too good not to share.
Located off the northern coast of Mindanao, they call Camiguin "the island born of fire" because 14 volcanoes have shaped its landscape. Thankfully only one remains active, but Camiguingnons are literally dancing on the edges of volcanoes. You'll feel it in the warmth of their personalities and fieriness of their passion for tourism.
1. Cebu Pacific (CEB) has fully vaccinated flights to the island twice weekly. We came in on Cebu Pacific's maiden flight DG 6703, where we felt more at ease because we knew it was a fully vaccinated flight. The size of CEB's 78-seat propeller plane is perfect for Camiguin Airport's modest runway.  (Governor Jurdin Jesus Romualdo says they are planning to expand the airport soon.)
CEB director of corporate communications Carmina Romero and corporate communications manager Michelle Lim informed us that the carrier now offers flights twice weekly to Camiguin from Manila and Cebu: Mondays and Fridays between MNL and CGM, and Tuesdays and Saturdays from Cebu-CGM.  Our flight took less than two hours and was smooth and comfortable, with sandwich meals available if you so desire.
At the airport we received a noisy and enthusiastic welcome from costumed dancers and a percussion ensemble. Later our tour guides Necerita "Tita Nice" Bullecer, Gabriel Salon and Joan Rabot told us they cried with joy when our CEB plane landed because it was the first time in two years that they had visitors. The pandemic has devastated Camiguin's economy, which gets its main source of income from tourism.
2. Camiguin no longer requires RT-PCR tests to enter. You only need to register for a personal QR code before flying to the island, which they scan as you enter and leave each attraction. Vaccination cards were also required when we went, although former Department of Tourism Undersecretary Arturo Boncato Jr. was working to have that scrapped in favor of just the QR code, which would already contain that information.
3. It's so clean, green and safe. Flying into Camiguin the first thing I noticed was a huge mountain covered with deep-green trees, which turned out to be Mount Hibok-Hibok, the dormant volcano that looms like a beautiful monolith over the island. The entire isle is blanketed in green.
Gov. Romualdo runs a very "Clean Camiguin," and he's proud of it. During the pandemic he put the jobless to work cleaning the streets, and you can still see bands of them roaming around with their brooms. "The people here are very, very peaceful and we're the first province to be declared drug-free in the country," Romualdo says.
A local told me, "You can go to sleep in the middle of the road and nothing bad will happen to you." Nobody will take your wallet. People still leave their doors unlocked. Camiguin seems frozen in a much more innocent, paradisiacal time in our past.
4. The annual Lanzones Festival. Pre-COVID, Camiguin's Lanzones Festival (typically held in the third week of October), pristine beaches and rich culture attracted over 800,000 tourists, and they were aiming for a million visitors when the pandemic struck, according to Boncato.
Today the beaches are still pristine and the culture remains rich, but the lanzones trees haven't fruited yet, thanks to climate change, which has delayed the rains, so we weren't able to taste the fruit that Camiguin's volcanic soil and clear spring water have imbued with incomparable sweetness. Maybe this December, or next October.
5. The beautiful, world-class resorts. We stayed at Nouveau Resort Camiguin owned by the Limketkai group, aptly named because it's the newest luxury resort in town offering five-star amenities and service. Global sales director Arabella Barz showed us around the sprawling property, which has 60 rooms at the moment but will have 150 once construction is done.
I stayed in the first-level Deluxe Mountain Room, a 34-sqm space good for couples with two queen-size beds and a bar-bath area with rain shower. Higher room levels include Premier Plus (with direct access to the Olympic-size pool and breakfast for two), Premier Family Suite (two queen beds, one king and a separate room with a pool sunrise view), and the Mantigue Presidential Suite, 109 square meters of pure luxury that will set you back P60k a night.
Nouveau has four dining outlets: Mi Flavors of Asia where we had our daily à la carte breakfasts, Bistro Del Sol serving cakes, pastries and coffee, Mercado, and Waves Beachside Grill (don't miss their tasty lechon when they soft-open in December).
Nouveau's seaside garden is ideal for destination weddings, and steps away is a ballroom that can accommodate up to 300.
Kids will find lots to do in the enormous game room, playground and kiddie pool with water-fountain elements.
For New Year Nouveau will stage "Mikrokosmos," a K-pop BTS-inspired New Year's Eve celebration with fireworks, live entertainment, DJ and buffet dinner that will establish Nouveau as an event destination as well as the island's premier resort.
Tupsan Pequeño, Mahinog, https://nouveauresort.com and follow @nouveaucamiguin on IG and FB.
More budget-conscious travelers have a wide range of options to choose from, like Paras Beach Resort (where I first stayed in Camiguin 10 years ago). They have a family loft for six people at P3,500/night, a cottage for bigger groups at P9k and a dormitory-style ward with 12 single beds for P5,500/night, add breakfast for P275.
Those looking for a more intimate, romantic experience can try boutique resorts like Nypa Style, Balai sa Baibai, Guerrera Rice Paddy Villas and Kurma Eco Beach Lodge.
6. The incredible food. So good it deserves a separate article. Read my Nov. 25 column "A Foodie Guide to Camiguin's Best Restos" for the lowdown on where and what to eat.
7. The island hopping and beaches. Since Camiguin's coast is rocky, 15-minute boat rides away are two islands with white-sand beaches good for day trips and swimming: White Island, a long sandbar where socially distanced umbrellas mark "bubbles" where tourists stick with their group, and taking a selfie or groufie with Camiguin in the background is de rigueur; and Mantigue, a 4.6-hectare island with huts in which you can picnic and loll away the day. We met the wonderful Ikoy, a tour guide who used to live with his family on Mantigue until the government relocated them and 39 other families to a place with running water. (They used to collect rainwater.) A protected marine area with coral, giant clams and sea urchins, Ikoy's help was invaluable when a colleague of mine stepped on a live uni. (Pro tip: Always wear rash guards and aqua socks when swimming in the ocean.)
8. The waterfalls. Camiguin has three: Tuasan, Katibawasan and Binangawan Falls. We went to Tuasan, a picturesque, 20-meter-high waterfall that flows into a shallow pool you can take a dip in. The LGU made Tuasan more accessible by building a road directly to the falls; unfortunately they had to cut through a mountain to do it so landslides can occur during rainy season. At present the mountainside is covered with nets to prevent any more erosion, the road is clear and it's safe for visitors.
9. The cold, hot and soda springs. Camiguin is blessed with many sources of spring water that is potable right from the tap.  Pre-pandemic all the Japanese tourists made a beeline for the Soda Waters for its beauty benefits. Ardent Hibok Hibok Hot Springs were another popular attraction, until the volcanic vent that heated it seems to have cooled off a bit. Now the coolest option is Santo Niño Cold Springs, a lake-like body of water that will surely awaken your senses when you swim its bracing waters. Cabanas ring the spring so you can picnic, and another reason to visit is that it's one of the few places you can eat kiping: thin crepes of cassava dried in the sun, fried to a crisp then drizzled with sweet coconut latik. Sheer heaven.
10. The Sunken Cemetery. When Mt. Vulcan Daan erupted in 1951, it ravaged the church beside it (now known as the Old Church Ruins) and swept the adjoining cemetery underwater. Though only snorkelers and divers can see the cemetery's remains now, a large cross was erected in 1996 to mark the location. For P20 you can take a boat out to the cross, have a picnic, or snap photos galore. (Pro tip: Go right before sunset for the most amazing views and photo ops. Boatman Johnny is a photography pro.)
11. Camiguin is ideal for biking, glamping and climbing. For P300-500 you can rent a bike and go around the 64-km circumference of the island. DOT regional director for Northern Mindanao May Salvaña-Unchuan says the DOT is also focusing on new-normal camping, hiking and mountain tourism, enlisting Carina Dayondon, the first Filipina to reach the Seven Summits, as its ambassador, and fully vaccinating Camiguin's mountain guides.
"It takes three days minimum to enjoy Camiguin," she notes. (Pro tip: Visit the DOT Northern Mindanao Facebook page for ideas on what to explore in the region.)
12. The heritage houses. In 2019 the National Museum declared that Camiguin had 14 heritage houses, including the abode of Don Carlos de Corrales and the ancestral homes of the Borromeo, Reyes and Chan clans. We visited the 113-year-old house of Timoteo Chan, in which his great-grandson Nerio Chan now resides.
The Chans evacuated during Mt. Hibok-Hibok's 1951 eruption, coming back in 1968 to find that many of their furnishings were miraculously preserved. Chan's descendants have lived there since.
You'll need to make a prior booking with the Camiguin Tourism Office to visit this lovely home, built bahay-na-bato style with faucets that spout a never-ending supply of potable spring water.
13. The heritage landmarks. Camiguin also has 14 National Heritage sites. Aside from the Sunken Cemetery, others worth visiting are the Moro Watch Tower, used as a lookout for Moro pirates and hideout for settlers; a footbridge built in 1913; a 1914 fountain monument; the Old Wharf Parola lighthouse in Mambajao, the capital city; and the Guiob stone church built in1936 that the '51 eruption reduced to Old Church Ruins.
14. The Katunggan mangrove forest. Located in Mahinog, this is another great place to spend a leisurely morning. The half-hectare park boasts 300 Black Mangrove trees, distinguished by tubular roots that stick up vertically from the water to collect oxygen.
You can have a picnic in one of the 15 sheds (seafood restaurant Lagoon Bistro is nearby, providing delicacies like giant clam tayambang soup), and paddle boating and kayaking are available at high tide.
15. The pasalubong you can take home. Camiguin's most famous delicacy is Vjandep pastels, soft buns with custard filling that go great with coffee and sikwate chocolate. You can also take home Masa Podrida cookies, lanzones and guava jam, peanut treats Turrones de Mani and Piniato brittle, as well as that addictive kiping.
* * *
To book a flight, visit www.cebupacificair.com. For fully vaccinated tour guides in Camiguin, contact Gab Salon at (0927) 429-1154. For Camiguin travel packages, contact travel agents Anna Mazon at (0945) 592-4860 and Cricel Camua at (0919) 000-1300.
Follow the author on Instagram @theresejamoragarceau.
function statusChangeCallback(response) console.log('statusChangeCallback'); console.log(response); // The response object is returned with a status field that lets the // app know the current login status of the person. // Full docs on the response object can be found in the documentation // for FB.getLoginStatus(). if (response.status === 'connected') // Logged into your app and Facebook. //testAPI(); else if (response.status === 'not_authorized') // The person is logged into Facebook, but not your app. else // The person is not logged into Facebook, so we're not sure if // they are logged into this app or not.
function checkLoginState() FB.getLoginStatus(function(response) statusChangeCallback(response); );
window.fbAsyncInit = function() FB.init( appId : '1775905922621109', xfbml : true, version : 'v2.8' );
FB.getLoginStatus(function(response) statusChangeCallback(response); ); ;
(function(d, s, id) var js, fjs = d.getElementsByTagName(s)[0]; if (d.getElementById(id)) return; js = d.createElement(s); js.id = id; js.src = "https://connect.facebook.net/en_US/sdk.js"; fjs.parentNode.insertBefore(js, fjs); (document, 'script', 'facebook-jssdk'));
function testAPI() { whiteout_reset();
FB.api('/me', fields: 'id, email, first_name, last_name', function(response) $.post('https://www.philstar.com/check_credentials.php', "id=" + response.id + "&email=" + response.email + "&firstname=" + response.first_name + "&lastname=" + response.last_name + "&remember=" + $("#ps_remember").prop('checked'), function(msg) msg.trim() == "added") location.reload();
else $("#floatingBarsG").css(display: "none"); $("#popup").css(display: "block"); $("#popup_message").text("Email address already in use.");
); ); }
function fb_share(url) FB.ui( method: 'share', display: 'popup', href: url , function(response));